TECH Summit and APBI in Washington provides on-ramps for Chicago and Baltimore
Mon, Jun 20, 2011 1:57 PM
INFORMATION DOMINANCE
2011 TECH Summit, APBI, IT Showcase, and Regional HSCC Review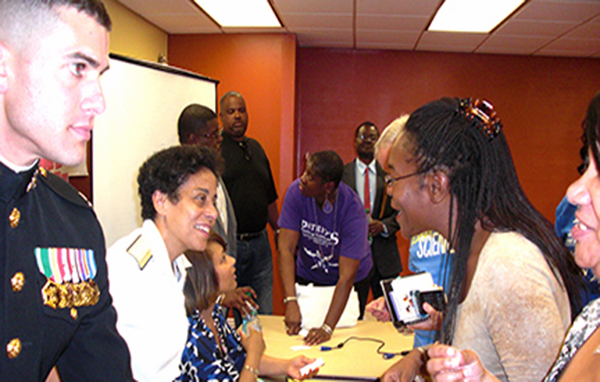 bdpatoday photo: Thurman Jones
Information Dominance: Above (L-R), APBI Panelists: Captain Daniel Lakhani, U.S. Marine Corps; Rear Admiral Michelle Howard, U.S. Navy and 2011 BDPA Regional Technology Conference Keynote Speaker; Lisa Harbour-Carter (seated), Comcast; and Keith Scott of Fire-Eye. Carl Brown, Center for Minority Business Development (CMBD) also served as one of BDPA's 2011 distinguished APBI Panelists.   
---
Washington, D.C.--During BDPA's Regional Technology Conference held June 17-18, 2011 in Washington, D.C., the host chapter's Advance Program Briefing to Industry (APBI) panelists shared challenges, best practices, and personal outlooks on what BDPA members can expect from various industry sectors relative to "Information Dominance." 
What was revealed during the summit about operational security (OPSEC), mobility, and wireless technology served as a precursor to industry challenges, best practices, and follow-on workshops to be presented during the National BDPA Technology Conference in Chicago, August 3-6, 2011 and next year's national events in Baltimore, August 1-4, 2012.

The bi-directional exchange of ideas and concepts also allowed visiting BDPA chapters, members, and guests to share ideas, concepts, and upcoming community CYBER/STEM events with industry.
This year's regional technology conference included the annual BDPA Community Awards Luncheon at the Washington, D.C. Navy Yard, a multimedia reception and studio tour hosted by media sponsor SiriusXM Satellite Radio, and an "Information Dominance" TECH Summit at Bowie State University featuring the Regional HSCC, IT Showcase, and Flight Simulations.
For more on these and related industry success stories, subscribe to  bdpatoday at http://bdpatoday.groupsite.com . Slide presentations of this past weekend's workshops from Cisco Systems, Office of Naval Research, Fire-Eye, Comcast, JEF, Patriots Technology Training Centers, and BDPA will be posted to http://www.bdpa.org for BDPA Members and registered Regional Technology Conference attendees on or before June 30th, 2011.
APBI "take-aways" | Did you know:
The United States Navy manages the world's largest enterprise network and Mr. Terry Halvorsen, the Navy's CIO (DONCIO), is scheduled to join us in Chicago for his third consecutive visit during your conference? 

That Rear Admiral Michelle Howard commanded several U.S. 5th Fleet task forces, including CTF 151, the multi-national task force that conducted counter piracy operations in the Gulf of Aden, the Gulf of Oman, the Arabian Sea, Red Sea and the Indian Ocean Task Force which successfully rescued the Maersk Alabama from Somali pirates?

That Dr. Larry Schuette, who heads the office of innovation at the Office of Naval Research (ONR), presented to BDPA during Industry Day, MMOWGLI (Massive Multiplayer Online Wargame Leveraging the Internet ), an online game game designed to crowdsource ideas and strategies that may provide insight to some of our nation's toughest problems?

That FireEye's Malware Protection Systems offers next generation threat protection to leading Fortune 500 private sector and public sector clients and is hiring certified network engineers?

That Comcast Interactive Capital and DreamIt are now accepting applications and will select five (5) 

minority-led startups

to participate in DreamIt's three-month accelerator program taking place in Philadelphia this fall?

That CMBD is accepting applications for its Local Minority Business Enterprise (LMBE) Accelerator Program which is designed to help minority-owned construction firms based in Prince George's County build the capacity to compete for large-scale construction contracts leveraging intense specialized training, C-Suite development, and on-site technical assistance?

That Bowie State University is the closest HBCU to Cyber Command, DISA, and NSA?

That the United States Marine Corps, with NROTC, officer programs, and combat support services opportunities at MARFORCYBER, is one of BDPA's newest sponsors and will join us in Chicago this August?

That SiriusXM Satellite Radio is hiring mid-level and senior level IT professionals, hosted a sneak-preview and tour for BDPA, and will host a major IT Career Invitational on Wednesday, June 22nd, 2011?

That BDPA Members own these and other relationships with technical leaders in every verttical market?
Get connected. Stay connected. Join or renew with friends or students, today.
---
 bdpatoday